To buy a track saw or just use a circular saw, that is the question.
I remember when I first got a look at a track saw. I wondered what in the heck was going on. A friend of mine, who does a great deal of carpentry work, explained to me how it worked.
To be honest, it looked like a cool "toy", but at the time, I didn't really see the need. My circular saw could do the same thing, or so I thought. That was until I began a major renovation at my house and had some difficulty getting really smooth, accurate cuts using just my circular saw.
I decided to try my friend's track saw and I was truly shocked at the difference. I made up my mind right there that I had to have one of these power tools for my own garage.
If you look at track saws, you will see quite a selection. It can be difficult to know which is the right one for you.
I made this guide to help make the task of choosing the best track saw a bit easier.
Best Overall
Makita Circular Saw Kit
Powerful 12.0 AMP motor for optimum performance in a wide variety of materials

Precision accurate cutting delivers a splinter free mirror finish.Construction Material:Plastic

Electronic speed control maintains constant speed under load for smooth cutting
Prices pulled from the Amazon Product Advertising API on:
Product prices and availability are accurate as of the date/time indicated and are subject to change. Any price and availability information displayed on [relevant Amazon Site(s), as applicable] at the time of purchase will apply to the purchase of this product.
Makita is well-known for making top-quality tools and this track saw is no different.
The saw itself looks like the typical circular saw. But this one has a powerful 12-amp motor and electronic speed control. That helps to maintain a steady and consistent speed that is necessary for smooth cutting. Makita includes a 6.5-inch blade.
I like the variable control dial, which means you control the speed. This offers speeds between 2,000 and 5,200 rpm. This means no "oops" because you were cutting too fast or your fingers slipped.
The Makita has a super large cutting capacity. The track is a full 55-inches in length! There are two knobs on the track that you can tighten so that you have no lateral movement. This will give you the smoothest cut you can ever imagine.
Pros
Extremely durable and long-lasting. Some users report that they are using this saw daily for 7 years or longer with zero issues.
Excellent dust collection.
Generous 55-inch track.
Has a soft start feature to eliminate splinters.
Cons
Some users complain that the track has a slight wobble.
The 1-year warranty could be better compared to the competition
Break interaction feature takes getting used to.
You can also buy an additional 55-inch track that attaches to the original track. This means that you can cut full sheets of plywood without stopping.
Runner Up
DEWALT 60V MAX Track Saw Kit
Zero clearance TrackSaw cutting system delivers straight, splinter-free, precise cuts

On track cut depth: 2-1/8 @90 degrees and 1-5/8 @ 45 degrees; depth of cut scale accurately accounts for thickness of track

Continuous Anti-Kickback mechanism and riving knife prevent kickback when engaged

Straight plunge mechanism for optimal ergonomics
Prices pulled from the Amazon Product Advertising API on:
Product prices and availability are accurate as of the date/time indicated and are subject to change. Any price and availability information displayed on [relevant Amazon Site(s), as applicable] at the time of purchase will apply to the purchase of this product.
DeWalt is another big name in power tools and chances are that you have at least one cordless power tool by DeWalt.
There is no denying that when you must work in a location that doesn't have easy access to an electrical outlet, a cordless device is a real boon.
This track saw also has many features that everyone uses. Including: A super long 59-inch track, a 6.5- inch circular blade (so it's easy to find replacements), and an anti-kickback feature for safety.
I like that DeWalt has a 3-year warranty, which Makita should offer but doesn't. DeWalt knows that their product is tough enough to last, and they aren't afraid to back up that statement with their warranty. I also like that this comes in a neat, very sturdy plastic case for ease of mobility.
The track is an amazingly long 59-inches. Like the Makita, you can buy another track separately if you wish. It's perfect if you need to make exceptionally long cuts and you don't want to move and reposition the saw.
Pros
The 3-Year Warranty is better than most.
Battery life is longer than you would expect.
The carrying case makes this super portable.
Cons
The stock blade does not appear to be the best quality so buying a replacement blade right away would be a good idea.
A few users complain that the instructions are not very clear.
Some people believe that the track needs to be longer.
If you do a lot of cutting where a cordless track saw would be more useful (electrical outlets non-existent or far away from the workspace), the DeWalt Max FlexVolt is the perfect answer.
Budget Option
Evolution Power Tools Circular Track Saw Kit
Designed to cut a wide range of materials without changing blades

Powerful 15 amp, hi-torque motor accurately cuts with an adjustable 2 - 1/2 inch depth

Includes 40 inch track, ergonomic soft grip handles, dust extraction port & adaptor, and premium 7-1/4 inch blade

0-45˚ bevel tilt with pivot for compatible and precise cutting capabilities

3 year limited warranty
Prices pulled from the Amazon Product Advertising API on:
Product prices and availability are accurate as of the date/time indicated and are subject to change. Any price and availability information displayed on [relevant Amazon Site(s), as applicable] at the time of purchase will apply to the purchase of this product.
If you really want a track saw but the price makes your wallet tremble, you might want to consider the Evolution saw.
Evolution has a slightly different take on the track saw. They made a circular saw with a track kit that you can put together and add to the saw. That kinda makes this a two-for-one saw and that's a good thing in my book.
Evolution offers a 3-year warranty on this product. I say that if Evolution can do that, so can Makita.
I hope Makita is listening!
This has a shorter than average 40-inch track broken up into three pieces. Like other manufacturers, you can always buy additional tracks. The blade is larger than some others at 7.25-inches.
The Evolution track saw is much less expensive than other brands and it does the job well, all things considered.
Pros
The 3-year warranty is terrific for a less expensive product.
The saw itself is quality made and you can feel it as you work.
Many users were impressed by the power of the saw.
Cons
The shorter track seems to bother most people, and many say if you are buying this saw, buy the additional track.
There are a few complaints about inaccuracy once the track was moved.
A few users complained that the original blade didn't last long.
The Evolution track saw is unique, that's for sure. If you are in the market for a nearly perfect track saw but don't have big bucks to spend, this is the one you want to buy.
Honorable Mention
Festool 18V Cordless Track Saw
Guide rail precision - a perfect cut the first time, every time, with laser-straight, splinter-free cuts

Splinter-free cutting—splinter guards on both sides of the blade ensure that you'll make zero-tearout cuts in virtually any material and reducing material waste

Ec-tec motor - Brushless ec-tec motor on the tsc 55 Reb has Robust airstream Lithium Ion batteries, and 5,200 RPM
Prices pulled from the Amazon Product Advertising API on:
Product prices and availability are accurate as of the date/time indicated and are subject to change. Any price and availability information displayed on [relevant Amazon Site(s), as applicable] at the time of purchase will apply to the purchase of this product.
Festool is probably the biggest name in track saws and the price reflects that. I hesitated to put it in this review because of the price.
There are so many great track saws for far less money (like the Makita Plunge), but the name is so big and so well-known, I wanted to at least mention it.
This is a battery-operated track saw, which is great when you need to work away from a power source. It has lithium-ion batteries, which last a long, long time.
Festool has been making power tools for decades so they've got this system down to an art. This track saw can go through at least 100 meters of material on a single charge.
This has a generous 3-year warranty, but note that even at this price, the unit does NOT come with the batteries or the charger!
If you have other Festool batteries, they are interchangeable. Otherwise, be prepared to fork over more cash for the Festool Bluetooth Lithium-Ion Battery Pack for 18V Cordless Tools.
The same is true for the track itself. If you have tracks from other models, they will most likely work on the Festool. Otherwise, you will need to buy the track, which Festool calls the Festool FS-1400/2 55″ Guide Rail.
At least this comes with a handy storage container.
Pros
Super well-known brand name.
Solid reputation for making quality power tools.
The 3-year warranty is a plus.
Cons
This is priced way out of the reach of many homeowners.
Does not come with tracks, batteries, or a charger.
If you have other Festool products, you might want to add this to your toolbox.
Should I buy a table saw or track saw?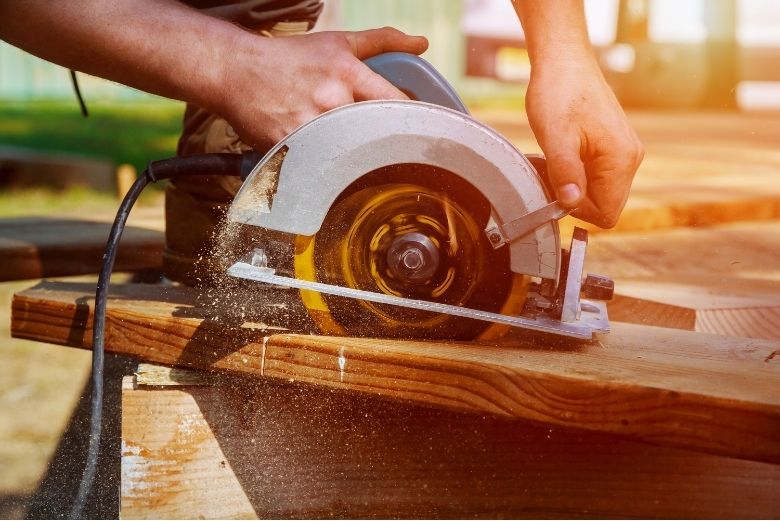 This would depend on what jobs you plan on doing the most of.
If your projects include a lot of large pieces (such as 4X8) of plywood, you will be much better off using a track saw. Trying to wrestle that large piece of wood onto the table saw and hold it steady is a big chore.
Especially if you are working alone!
Table saws are excellent for quick, repeatable cuts. If you are cutting slants on the top of fence posts (commonly called dog ear cuts) a table saw is great for this.
Table saws are also helpful if you have a shed or shop where you have enough space for this tool. My table saw takes up a sizeable amount of space in my garage.
Table saws are also good at making narrow cuts, miter cuts, and deep cuts.
A track saw is a better option for those who work alone. If it's just you and the saw, you will find a track saw much easier to handle on your own. If the majority of your cutting involves angles of less than 90 degrees, you will also find that a track saw is easier to use than a table saw.
Track saws are portable, easy to store, make clean, smooth cuts, and they tend to be much safer.
Everyone has their preferences. But for the majority of homeowners, including myself, I've found that a track saw is the better option for DIYers.
Are all track saw tracks the same?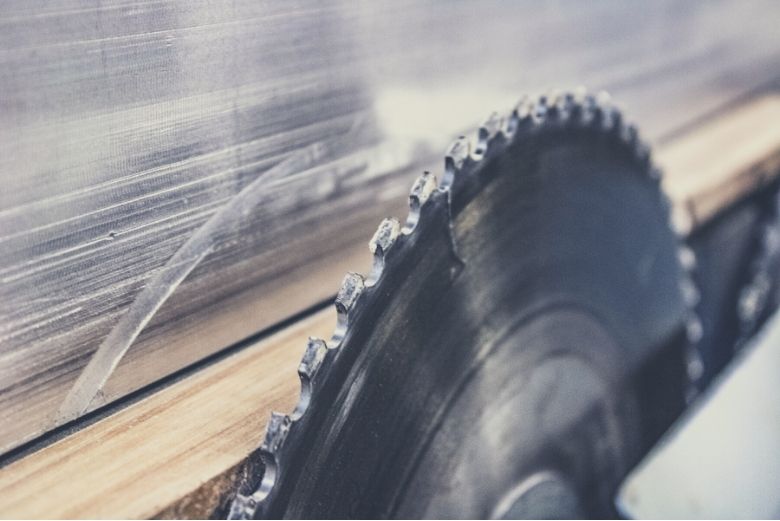 There are some differences between track saws, such as the size of the motor and the blade. But for the most part, track saws are similar to hammers, they all do the same job.
And some do a better job than others.
In fact, I discovered that some of the parts are interchangeable! You can actually use the track from a Makita with a Festool track saw and vice versa.
Can I use my circular saw as a track saw?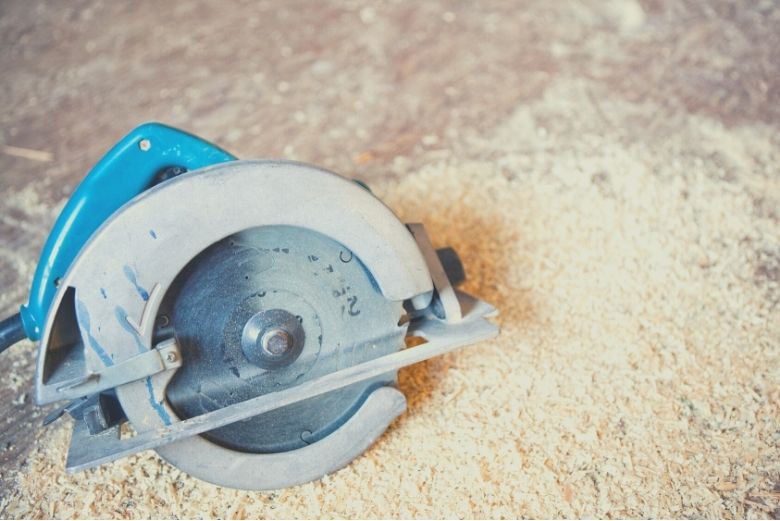 While a circular saw and a track saw may look the same, they are a bit different.
Circular saws are great for portability and making crosscuts and rip cuts.
While a track saw may be a bit bulkier, it makes super accurate cuts in all angles.
This is where you need to ask yourself: Do I need something that makes super smooth, accurate cuts or am I just cutting firewood?
Track saws are used by professionals.
You know they must be accurate and be worth the money. You don't see carpenters or construction workers carrying any tool they don't really need! If a circular saw would be "good enough" for them, you wouldn't see them using a track saw.
The fact is, you do see track saws all over worksites and in workplaces.
My advice is to buy a track saw if you plan on doing any nice woodworking projects around the house.
It's a worthwhile investment.
How do you make a saw track?
Many people have tried to make their own type of track to turn their circular saw into a track saw.
There are a few ways to do this, including simply clamping down a straight edge ruler. You can see a short video about that here:
There are more complicated ways of making your own track. Rather than trying to describe them in detail, I will direct you to a few ideas:
Make up your mind about not only which one of these would work best for you, but whether you have the time, skills, and want to take the trouble to make one for yourself.
The Winner
If you're on a tight budget, I would recommend going with the Evolution Power Tools Circular Track Saw Kit. It will get the job done and you will be happy with the results.
For everyone else, you should seriously consider all the features that the Makita Circular Saw Kit has to offer.
In my opinion, the one-year warranty should be extended. But this seems to be par for the course. Otherwise, you really can't ignore the fact that many users rave about this saw, including my friend who introduced me to track saws.
Some users claim that the track is unstable or "wobbly" but that has certainly not been my experience. If you keep the track waxed, the saw should glide like a hot knife through butter!
If you work with plywood or melamine, you don't want any chips or splinters. The Makita will make working with these items a breeze!
After just one cut, you will seriously be asking yourself "Where has this been all my life?!"
I love the Makita Plunge. It works great and will make a huge difference in your work. If you've been putting off buying one due to the price, take the "plunge" (sorry about that pun) and get one.
You will wonder why you waited so long! Once you try the Makita Plunge, you will never work one more day without this saw in your toolbox.