If you are in the market for a circular saw, you might be considering a cordless one.
And why not?
It seems as if there is a cordless version of every power tool on the market. Lawnmowers, drills, screwdrivers, even chainsaws.
You might be thinking that a cordless circular saw isn't as powerful as a corded one. While that might have been true a decade ago, it certainly isn't true now.
Today's cordless circular saws are operated by powerful lithium-ion batteries that last an amazing amount of time. If you buy an additional set of batteries, you can keep your saw going non-stop for who knows how long.
Cordless saws often use the same type of blades, have the same cut depth, and are actually better in some ways than corded saws. Most have no brushes to wear out and they actually exceed the performance of typical 15-amp corded models.
If you are interested in a cordless circular saw, you might feel intimidated by all the different brands and models out there.
I know I was!
I'm confident that you are going to love the breakdown in my guide as to which is the best cordless circular saw and why.
Sit back and keep reading. Let's get to it!
Best Overall
DEWALT 20V MAX 7-1/4-Inch Circular Saw with
Power - Brushless motor provides 5200 RPM and maintains speed under load

Runtime: 100 cross cuts in a 2x4 (Pine)

Capacity: 7-1/4 inch blade provides 2-9/16 inch depth of cut

Battery and Charger Sold Separately
Prices pulled from the Amazon Product Advertising API on:
Product prices and availability are accurate as of the date/time indicated and are subject to change. Any price and availability information displayed on [relevant Amazon Site(s), as applicable] at the time of purchase will apply to the purchase of this product.
Every homeowner knows the DeWalt name. They've been around for nearly a century making quality power tools.
This incredibly powerful circular saw can make 100 wood crosscuts on a 2X4. That is a whole lot of staying power!
This has the popular 7.25-inch blade which you can buy replacements everywhere. It has a bevel capacity of 27 degrees, and a 2-9/16 depth of cut.
Match any corded saw against these specs and you will see that DeWalt went all out to make this an outstanding cordless saw.
This unit also comes with an LED light to help you see what you are cutting. But in the sunlight, it's not much help. But it's great for indoor work.
If you already have any other DeWalt 20V Max tools, you can use the same battery. But if you don't, you need to buy both the DEWALT 20V MAX Battery and Charger Kit.
This is NOT interchangeable with other 20V batteries, it must be the DeWalt brand. I would like to see DeWalt offer a special price on a complete unit but hey, they didn't ask me!
Pros
The battery life is excellent
It's light in weight but powerful enough for everyday use
It has a generous 3-year warranty (battery and charger also have the same warranty)
Cons
The basic blade leaves something to be desired and is not made for finishing work
The safety switch is in an awkward location
The LED light doesn't have an on/off switch
The DeWalt 20V Max Cordless Circular Saw is just shy of perfection for me. I love not having to run extension cords across my lawn to get something done!
Runner Up
Milwaukee M18 18 Volt Lithium Ion Cordless Circular Saw
ELECTRONIC BRAKES will stop your blade quickly when you're finished with your cut.

SOFT GRIP HANDLE provides maximum comfort

M18 COMPATIBLE: This cordless circular saw is compatible with Milwaukee M18 18 Volt Lithium Ion batteries.

Includes: 18-Volt XC Circular Saw, 24T Carbide Blade
Prices pulled from the Amazon Product Advertising API on:
Product prices and availability are accurate as of the date/time indicated and are subject to change. Any price and availability information displayed on [relevant Amazon Site(s), as applicable] at the time of purchase will apply to the purchase of this product.
Milwaukee is another well-known company that has been selling power tools for almost a century. While these are no longer made in Milwaukee, the company still manufactures outstanding power tools!
This cordless saw uses a slightly smaller blade than most others at 6.5 inches. It features electronic brakes, a soft-grip handle, and allows for a bevel adjustment of 45 degrees. The blade has a cutting depth of cut to 1.5 inches.
Like the DeWalt, the Milwaukee cordless saw is the bare tool only. You can use any other Milwaukee M18 battery and charger if you already own one of their products.
Perhaps Milwaukee's biggest selling point is the 5 Year Warranty on the tool itself. The lithium-ion battery has a 3-year warranty, which is exceptionally good. But a 5 Year warranty on the tool is pretty amazing.
Pros
The padded handle is a big plus when working long hours
The 5 Year Warranty is outstanding
Lithium-ion batteries are super long-lasting
Cons
I found many complaints about the blade jamming
I found a few complaints about the tool being damaged right out of the box
No case is included
The 5 Year Warranty was enough to make me give this a second look! If you are a fan of Milwaukee tools, you should give this one a try.
Budget Option
EnerTwist 20V Max 4-1/2″ Cordless Circular Saw
OPTIMIZED FOR ONE-HANDED USE - Cut 2x4s in a single pass with an easily maneuverable cordless circular saw

POWERFUL & EFFICIENT - Blade size 4-1/2 inch, no load speed 3,500 RPM for faster multi-purpose cuts

PLUNGE & BEVEL CUTS - Adjustable cutting depth

SAFETY & ERGONOMIC - Left-sided blade design for great cut-line visibility
Prices pulled from the Amazon Product Advertising API on:
Product prices and availability are accurate as of the date/time indicated and are subject to change. Any price and availability information displayed on [relevant Amazon Site(s), as applicable] at the time of purchase will apply to the purchase of this product.
You may not know the EnerTwist name, but at this price, you might be hearing about this company a great deal more in the future.
The EnerTwist is designed for one-handed use. That's important because you are free to use your other hand to guide the material you are cutting or to support it.
I love that the EnerTwist not only comes with 3 different 4.5-inch blades, but the lithium-ion battery and charger are also included!
This offers a laser-guide, up to 45-degree bevel settings, and can cut almost anything a regular 7.25-inch circular saw can.
This saw isn't as big as the regular corded saws or even the DeWalt above. But for portability, this can't be beat! Think of all the little jobs around the house that you can do with this lightweight tool.
Pros
It comes with lots of extras for the price
It has a substantial 2-year warranty
Extra batteries are available from the manufacturer
Cons
Some users complain that the safety button is located in an awkward position
The laser does not turn off automatically, which can drain the battery
There are a few complaints about the tool not working after a few months, but this would be covered by the warranty.
All in all, if you're a bit short on cash, this is a handy little cordless circular saw that I'm betting you will use a lot.
Are battery-powered circular saws any good?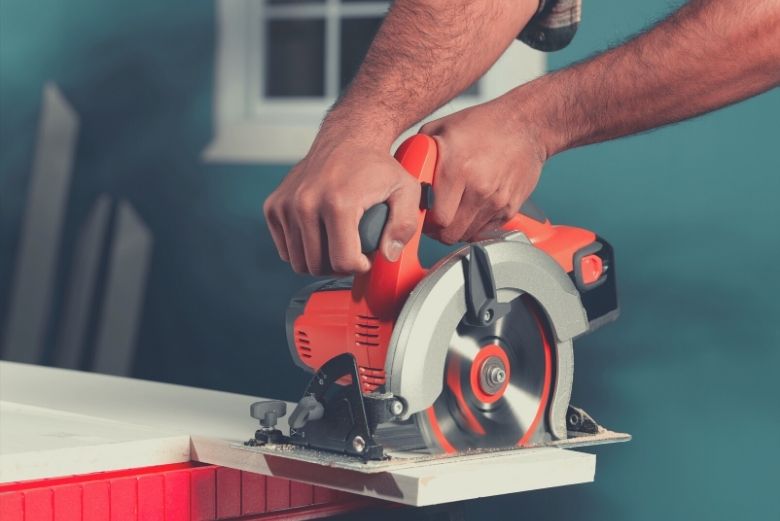 Yes, battery powered circular saws are very useful.
Battery-powered circular saws, or cordless saws, can do the same amount of work that a regular circular saw can do.
Yes, a cordless saw might have a limit to the amount of material they can cut with one charge. But they have all the features that a corded saw does with the benefit of being portable.
Want to cut some wood while you're camping? Need to do some cutting but you don't want to haul the item closer to a building?
This is no problem for a cordless circular saw!
Of course, if you are going to be cutting something for 6 or 8 hours straight, you will probably need to either have a backup battery, or use a corded saw.
But for the overwhelming majority of homeowners, a cordless circular saw is a real workhorse that can save you so much time and effort.
No need to measure something, drag it back to your garage, only to drag it back to your project site. You can simply measure and cut in one location.
I love the convenience of my cordless circular saw, even though I did have my doubts at first, and I bet you will as well.
How do I choose a cordless circular saw?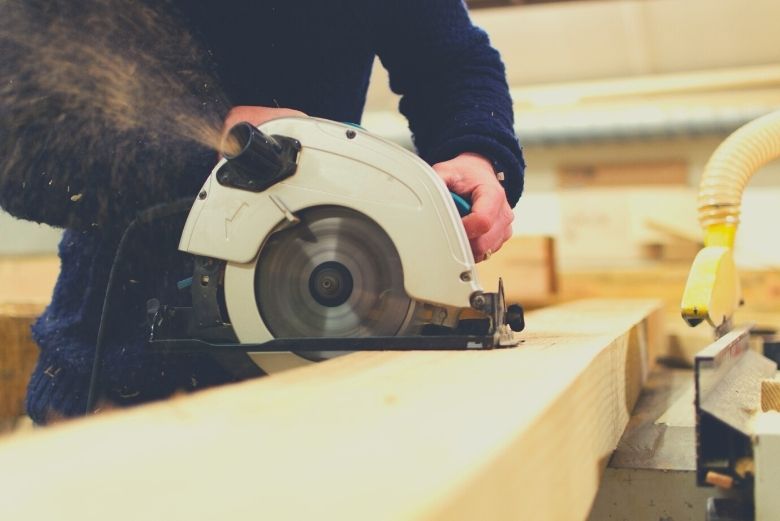 You can determine which cordless circular saw is best for you by considering the following four details:
Look at the cutting capacity. While most blades are the typical 7.25 inches, there are smaller blades. Also, if you want to use a larger blade, will the saw you are considering accommodate that larger size?
Consider the depth of the cut. Different manufacturers have different depths of cut capacity.
Look at the maximum speed. The faster a saw can turn the blade, the more powerful it is and the easier it is to control.
Battery life. The best saws use 18-volt lithium-ion batteries. These are powerful batteries with a long life that will suit nearly all homeowners and DIYers.
Nice extras to consider are:
Does the unit come with extra batteries or an extra charger?
Does it have a carrying case?
Does it come with a blade or extra blades?
These are the little extras that make a difference when it comes to choosing the perfect cordless saw.
Should I buy a corded or cordless circular saw?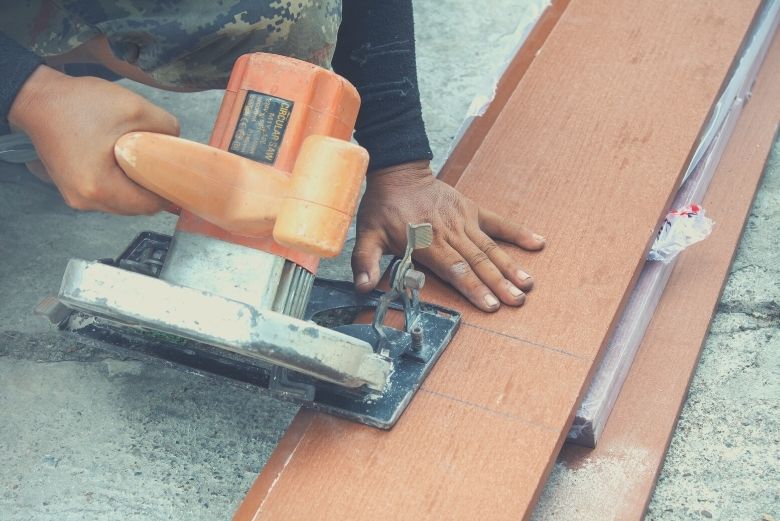 I actually have both. If you could only afford to have one or the other, your choice will depend on what your needs are.
A regular corded circular saw will have an endless supply of power. You never worry about the battery running low.
Cordless saws have an extremely long battery life, but they also usually contain safety features that corded saws don't, such as overload shut-off devices.
Cordless saws also lack brushes, which means they can outlast a corded saw and need fewer repairs.
Consider the type of work that you generally do the most of. Do you make only a few cuts over a weekend project? Do you like the idea of a super-portable saw? Then a cordless saw would be perfect for you.
If you spend a great deal of time cutting or cutting items harder than wood, you should go with a corded circular saw.
Which is better WORM drive or circular saw?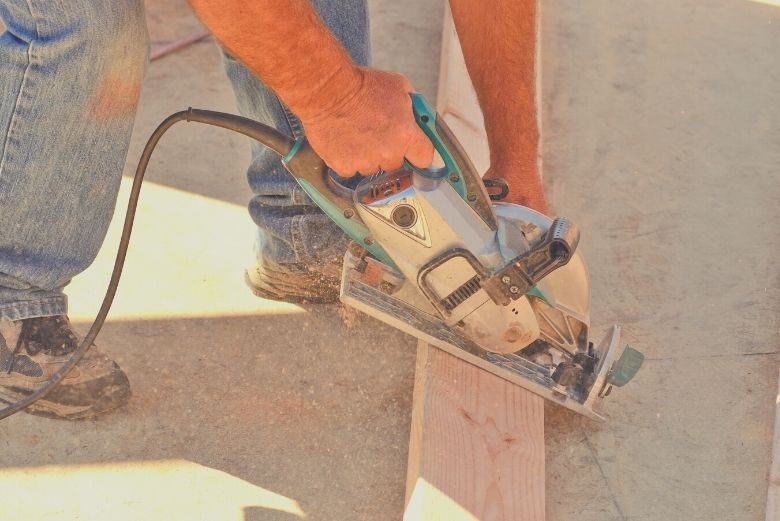 You might be asking "What the heck is a Worm drive?" I know I did when I first heard that!
Worm drive saws have the motor at the rear of the tool, not the center or front. The overall speed of the blade is slower, but the torque is much better.
Worm drive saws are heavier and longer, with the blade on the left side.
Some people love worm drive saws. Especially those who are right-handed since you can easily see what you are cutting.
But these saws are very heavy and cost more than a plain circular saw. If you do a great deal of professional woodcutting, I would imagine a worm drive saw would be a good choice.
For the average homeowner and DIYer, I'm not sure a worm drive saw would be worth the extra effort and cost.
The Winner
When it comes to power tools, I believe that spending a few bucks on the best that you can afford is well worth the money in quality and durability.
The DEWALT 20V MAX Circular Saw is worth every dime. You will be shocked at how powerful this tool is and you might find yourself looking for the cord!
This circular saw can cut nearly everything around the house, all day long, and still be ready for more action. You might want to purchase a few extra blades, including some finer blades for finishing work.
But otherwise, this is the tool you will reach for again and again.
I do own a corded circular saw. But in all honesty, I don't use it much anymore. The DEWALT 20V MAX Circular Saw is so convenient, I just slap the battery in and head out the door. No worries about an extension cord or if there's a power supply, I know this cordless saw is going to do the job just fine.
If the price of the DeWalt is a bit much (especially if you need to buy the battery and charger), the EnerTwist 20V Cordless Circular Saw is a good choice and it won't break the bank.
For my money, it's the DEWALT 20V MAX Circular Saw all the way!