Maybe you've got acres of hardwood trees and need to clear them for pasture. Or you like cutting your own cords of wood every year for your fireplace.
Either way, you want a chainsaw chain that will take the heat and keep coming back for more.
When it comes to cutting hardwood trees such as oak or birch, then you want a chain that says it has chisel cutters or semi-chisel cutters.
This means that the corner of the cutting edge is rounded. This helps to keep your chain sharper for a longer period.
If you are cutting mixed woods, you will definitely want to go with the semi-chisel cutter. This gives you more versatility than any other type of chain.
So how to find the right chainsaw chain?
That job just got a whole lot easier. I've done lots of research here. Not to mention, I've done more than my fair share of cutting hardwood trees, so I've got a great list to help you sort this all out.
Before you run that chainsaw one more time, check out this list and start your cutting off right by using the best chainsaw for hardwood trees you can buy.
Best Overall
Oregon S56T AdvanceCut Chainsaw Chain
Fits several chainsaw models including: Husqvarna, Echo, Poulan, WildThing, Greenworks and Ryobi

Cuts smoothly, semi-chisel chain is more tolerant of dust and dirt

Automatic oiling for longer lasting chain
Prices pulled from the Amazon Product Advertising API on:
Product prices and availability are accurate as of the date/time indicated and are subject to change. Any price and availability information displayed on [relevant Amazon Site(s), as applicable] at the time of purchase will apply to the purchase of this product.
If you know anything about chainsaws, then you know that Oregon Makes terrific chains for a wide range of chainsaw brands.
This one fits many models, such as Homelite, Echo, Husqvarna, Ryobi, Poulan and Craftsman. Double-check your model to see that it is listed before purchasing.
This is a two-pack of chains.
I like Oregon chains because they are heat-treated which means they are made for hardwood cutting. They have automatic oiling, so you don't have to take time for that little job. They also have very low kickback or vibration issues, unlike some other chains.
This uses semi-chisel chains, which are more dirt and dust-tolerant. This model fits the popular 16-inch bar length and has a very smooth cutting action, not to mention it's very reasonably priced.
What I Like
Heat treated links mean fewer breaks
The self-oiling mechanism keeps the blade sharp
Lightweight but very durable materials
What I Don't Like
Fits many models, but it can be difficult to place on some models
Only works on smaller 16-inch bar chainsaws
Made in China
I've used a lot of chainsaws in my life and while I've found that other brands are good, nothing works as well as an Oregon chain.
Runner Up
Prices pulled from the Amazon Product Advertising API on:
Product prices and availability are accurate as of the date/time indicated and are subject to change. Any price and availability information displayed on [relevant Amazon Site(s), as applicable] at the time of purchase will apply to the purchase of this product.
Stihl is one of the giants in the world of chainsaws. If your chainsaw is a Stihl brand, you should use one of the genuine Stihl chains.
This chain fits 18-inch bars and is designed to be much more aggressive on hardwood than the factory chain is. This chain really holds its edge and you won't need to stop and sharpen it frequently.
More aggressive chains mean that you have a bigger chance of kickback. Be super careful and if you aren't very experienced with a chainsaw, you should pass on this one.
When Stihl says aggressive, they mean it!
Stihl makes super high-quality chainsaws and replacement chains. If you have another brand of chainsaw, you will love this replacement.
What I Like
Aggressive chain saves you time by cutting through hardwood like butter
This is a great value for such an aggressive chain
Typical Stihl quality means this chain holds its edge longer than you will expect it to
What I don't like
It doesn't work well for small jobs. This chain is made for big, hardwood trees
The aggressive chain can have very powerful kickback and it is not recommended for beginners
It's not self-lubricating
This chain is for the experienced chainsaw user who wants to cut through wood fast and knows how to handle kickback. If you want a high-performance chain, this is the one you've been looking for.
Best Budget Option
Husqvarna 18″ Chainsaw Chain
A low kickback, low-vibration chain Developed to meet the specific needs of todays lightweight chainsaws

Great cutting performance and bore cut

Well suited for commercial cutters, arborists and occasional users.
Prices pulled from the Amazon Product Advertising API on:
Product prices and availability are accurate as of the date/time indicated and are subject to change. Any price and availability information displayed on [relevant Amazon Site(s), as applicable] at the time of purchase will apply to the purchase of this product.
Like Stihl, Husqvarna is a super-well-known brand when it comes to chainsaws. This particular replacement chain is a true milestone of sorts for the company.
It was designed where Husqvarna originated in Sweden, but is manufactured in the USA
This is a super high-quality product and you can tell that Husqvarna took the time to pay attention to detail. This chain is super sharp but has a low incidence of kickback, coupled with Husqvarna's precise kerf cutting.
When you want to sharpen this chain, use a low file. But I'm betting you won't be spending too much time sharpening it!
This is an 18-inch chain that is made for Husqvarna models 435, 440, 445, and 450. It may fit other brands, but double-check the application before you buy.
What I Like
The super sharp edges means it stays sharp longer
It has a patented design for durability
It has a low incidence of kickback reported
It's made in the USA
What I Don't Like
It's not self-lubricating
A few users say that they received generic chains that did not appear to be the Husqvarna brand
Some users say that the package is mismarked, and it does not fit their model of chainsaw
If you own a Husqvarna chainsaw, this is a better than OEM chain that will make short work of your hardwood cutting job.
What is the longest-lasting chainsaw chain?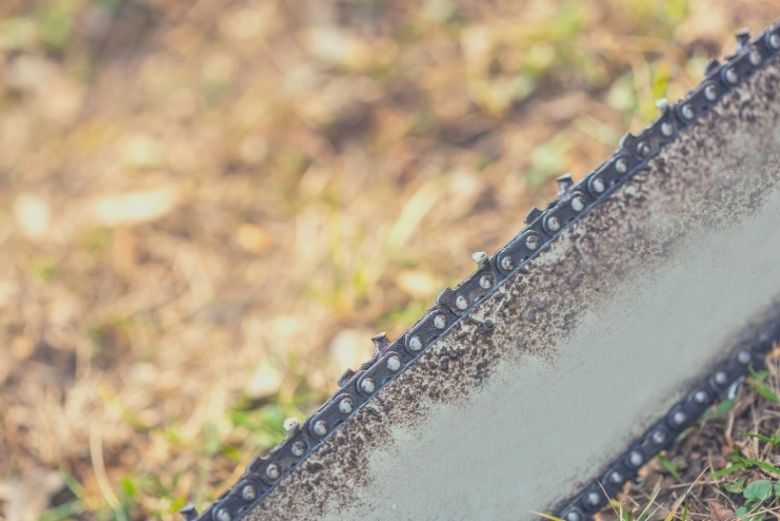 Like many things in life, this one is difficult. Ask 20 different people this question and you will get at least 15 different answers.
In my experience, Oregon chains last the longest. I've found that this particular brand cuts small tree branches more via vibration than actual cutting and the teeth seem to stay sharp a long time.
You might hear others say that Husqvarna or Stihl is the best. These companies also make excellent products and I'm sure that you will not find those chains lacking.
Everyone has their favorite brands and reasons why they choose one over another. I think good maintenance, such as oiling the chain and sharpening it when necessary, is far more important than the brand.
Pick a brand name chain saw chain and take care of it, and you will get good service from it.
Why does my chainsaw chain dull so quickly?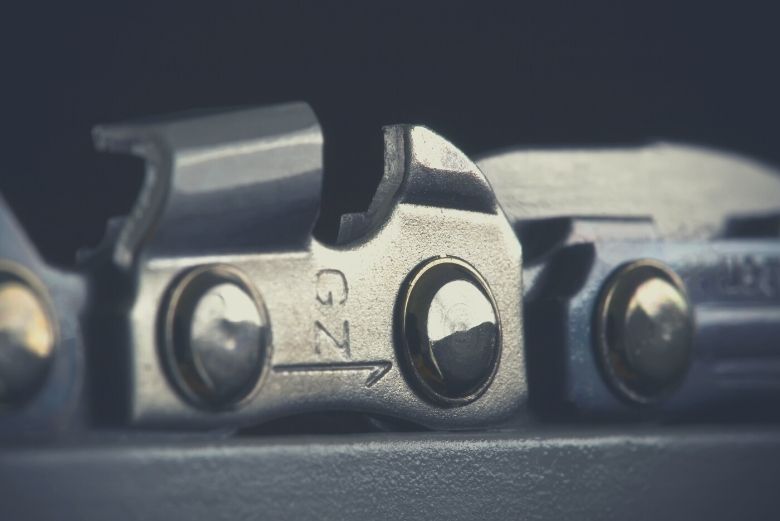 Quickly is a relative term. What is quick? An hour? A day? After 1 tree?
When cutting hardwood, most people find that the blade is no longer sharp after an hour or two. You could probably keep on cutting, even with a dull chain, but it will take you longer and longer to get that tree down.
If your chainsaw is no longer throwing out big chips, the blade is dull. If you are doing a one-time project, you should keep an extra chain and simply replace it.
However, if this is an ongoing project or if you think you will use the chainsaw frequently during the year, it will be worth your while to buy a sharpener.
Sharpeners cost the price of a chain and you can use them at least 3 or 4 times before the chain is worn out.
How often should I sharpen my chainsaw chain?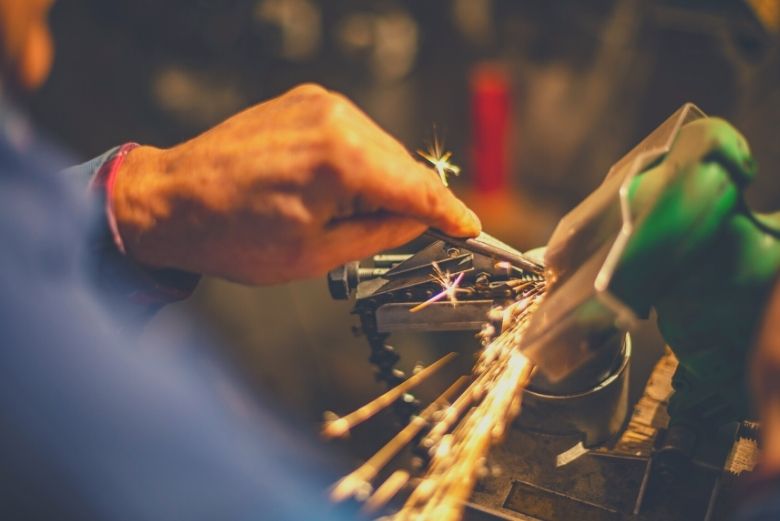 Everyone has their own opinion here but mine is that when the blade is dull, sharpen it!
That might mean every 2 or 3 hours or it could mean every 5 or 6 trees. It depends on what you are cutting and how sharp the blade is to begin with.
Also, some people are really good at sharpening a chain. Others are not, and nearly everyone seems to sharpen one side more than another.
If you think the chain is dull, it probably is. Go ahead and sharpen the chain.
What chainsaw chain cuts the fastest?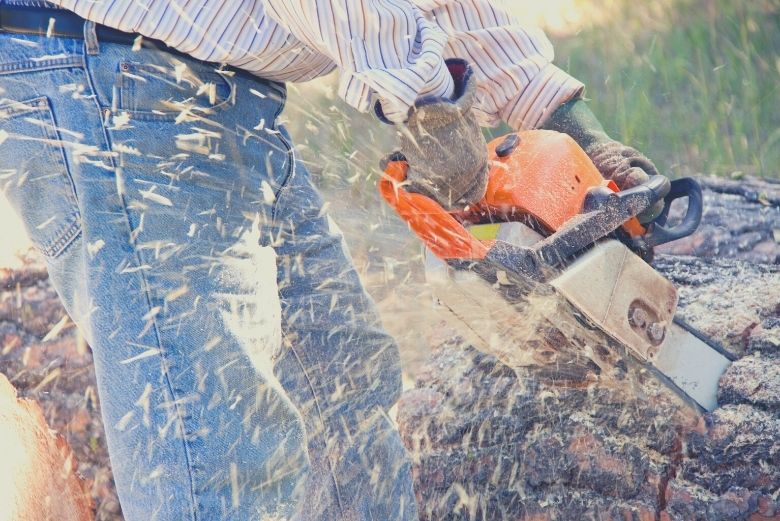 Look for square ground chisel chains. These are sharpened using a square file, as opposed to a round file, and they are well known for cutting the fastest.
The next would be a round file, chisel chain.
You can find nearly all of these chains in most tool stores or online by different manufacturers.
In The End
While everyone has their favorite brands, there is often a good reason behind it.
It feels as though I've cut firewood every summer and winter since I was a young teen. I've used all different brands and lengths of chainsaws, not to mention, all types of chainsaw chains.
No matter what, it seems like I always go back to Oregon Chainsaw Chains. Oregon chains cut like the proverbial hot knife through butter.
I've had almost no kick-back issues or vibration problems.
This isn't to say that other brands aren't good. I've used Husqvarna and Stihl when I was unable to find an Oregon product that would fit, but nothing is like Oregon for chains.
Cutting with a new Oregon blade is so much faster and easier on the shoulders than trying to force a dull blade through hardwood. If you've done this, you know what I'm talking about!
I like the Oregon S56T for many reasons. First, it's self-oiling, which means that is one less task I have to worry about. This chain sharpens up like a dream and it comes in a two-pack which means fewer online orders.
If you use another brand, give Oregon a try. I'm betting you switch loyalties after you use the Oregon S56T Advanced Cut blade.