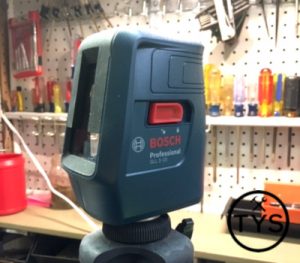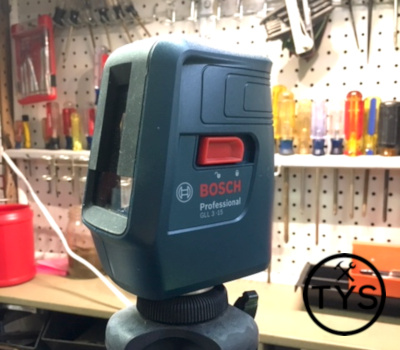 Have you ever needed to level an outdoor patio in the sunlight and a red laser wasn't showing up too well? Green lasers typically have a higher power output and run at a different wavelength making them easier to see in sunlight. What's the best green laser level for most home owners and DIYers? Let's continue and find out.
Huepar 902CG Self-Leveling 360-Degree Cross Line Laser Level
The Huepar 902CG presents a solid value with great features to help you level any project at home or even semi-professional work. If you're hanging picture frames or mounting a TV on the wall, the Huepar 902CG will give you a straight line without a large price tag.
You'll first notice the bright green color of the laser once you power it on using the included 4 AA batteries. It's very easy to see both the horizontal and vertical lines indoors. Having both lines is a wonder for hanging picture frames on walls.
Warranty
1 year limited warranty, 2 years with registration form on the box
3 years from the date of purchase
Country of Manufacture
Made in USA with global materials
Parent Company
Fluke Corporation, Danaher
Warranty
1 year limited warranty, 2 years with registration form on the box
Country of Manufacture
Made in USA with global materials
Warranty
3 years from the date of purchase
Parent Company
Fluke Corporation, Danaher
Last update on 2019-10-21 / Affiliate links / Images from Amazon Product Advertising API
How to Use a Laser Level
First, place the base on a flat surface, a tripod, or even a metallic surface like a metal stud. If you're using a tripod outdoors, make sure the ground is steady and the tripod won't move.
The bottom of the Huepar has built in magnets to easily attach to metal surfaces. One tip is that if you already have a camera tripod, there's a good chance you can use it as a mount if it's the standard 1/4 inch tripod thread.
If you're using a tripod, adjust it to the correct working height that will give you the line about where you need it.
Turn on the level with the switch and you'll see the laser emit lines on the surface ahead of you. Be careful not to look directly into the laser as it can damage your eyes. Allow the level a few seconds to self level and you'll see the line come to rest.
What is a Self Leveling Laser?
If you've ever used a typical straight bubble level before, the concept of a self leveling laser is similar in that the tool uses gravity to measure weather a surface is perfectly horizontal or not.
Most self leveling lasers levels use gravity to align a pendulum straight down. After you place the level and the pendulum finishes swinging, it will be vertically aligned for the internal lasers to emit perfectly horizontal and vertical lines. Some self leveling lasers use magnets to hold and mirrors to split the light emitted from the laser.
What is the Difference Between Red and Green Laser Levels?
Outside of the color of the emitted light, the main differences are battery life, brightness, and price. A green laser level typically requires more energy to product the different wavelength. This will affect the amount of time you can use the laser and how bright it will be when the battery wears down.
Terminology
Level: When a line is parallel to the horizon (true horizontal)
Plumb: When a line is perpendicular to the horizon (true vertical)
Square: When two lines intersect to make a right angle
Leveling Applications
Plumbing drain lines to keep a downward slope
Leveling gravel
Stone work for outdoor patios
Kitchen countertops and backsplashes
Mounting a TV to a wall
Drywall or sheetrock work
Ceilings
Huepar 902CG Features
Horizontal and vertical bean
380 degree Osram laser with power of 40mW @ 510nm wavelength
Green beam is easier to see in certain situations like outdoors
Pulse mode can help you identify the line more easily outside
Self leveling
Shock proof, water proof, and dust proof
Pros
Great value for its price point
Two beams for greater versatility
Cons
Requires 4 AA batteries, no rechargeable battery system to match your other tools
Claims to throw a beam over 130ft, but is actually around 30-40ft indoors
Can use a higher quality storage bag, so be sure to store it in a safe place
FAQ
Q: Does it come with a case?
A: Yes, it comes with a soft case

Q: What's the thickness of the line?
A: It's 1/8 inch at 30 ft.

Q: What kind of tripod does it fit on?
A: It works on standard 1/4 inch tripod thread

Catalog
Company Profile
Huepar/LevelSure is a China based manufacturing company that has 5 production lines, over 100 employees, 8 R&D engineers, and a 2,500qty daily production capacity.
Contact info:
Changzhou Levelsure Optoelectronics Technology Co., Ltd.
ADD: Building 5, New Power Venture Center No.1, Qingyang North Road,Tianning District, Changzhou, Jiangsu Province, 213021, China.
Email:lisa@levelsure.com
Mobile: +86 18023038783
QQ: 373586511
WhatsAPP:+86 18023038783
Skype: lilisaer
Where to Buy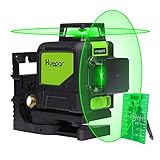 Huepar 902CG Self-Leveling 360-Degree Cross Line Laser Level with Pulse Mode, Switchable Horizontal and Vertical Green Beam Laser Tool, Magnetic Pivoting Base Included
360-DEGREE VERTICAL and 360-DEGREE HORIZONTAL LINE- With its ultra bright 360-degree vertical and 360-degree horizontal green beams the 902CG Laser Level provides all-around leveling coverage with accuracy of ±1/9 Inch at 33 Feet and a maximum working range of 130 feet, enabling you to work in different parts of a large room simultaneously.
GREEN LASER UNIT- This self-leveling cross line laser level adopt the latest LD blue-green laser unit, it is at least twice brighter than red lasers utilizing the same power source. The bright 360° laser lines allows the user to project a laser reference line around the room with accuracy to quickly establish level, enabling users to work in different parts of a room simultaneously.
MULTIFUNCTIONAL MODE- One button operation makes it easy to project lines together or independently (cross line, vertical and 360-degree horizontal). With our smart pendulum system, the pendulum locks when the level is switched off. Simply, hold the top button 2 seconds to start manual mode, letting you project lines in any position or angle.
OUTDOOR PULSE MODE & DURABLE- When the pulse mode is turned on, laser tool can be used with a laser detector for working in even brighter environments or at greater working distances. This laser level is covered by TPR soft rubber for shock resistant, IP54 waterproof and dustproof, shockproof, wear resistant, impact resistance, cold and high temperature.
WARRANTY & KITS INCLUDE- Customer can enjoy 12 months limited warranty but up to 24 months longer warranty if you become a royal customer through the product registration (Offered on the package box). Huepar 902CG Self-Leveling Laser, Easy-to-Adjust magnetic base, Target plate card, Carry pouch, AA batteries, Instruction Manual.
Last update on 2019-10-21 / Affiliate links / Images from Amazon Product Advertising API