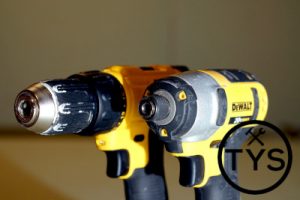 Choosing a cordless power tool is similar to buying into a system. Once you're in, you're invested. That means it's important to pick a system that works best for you at the beginning. Manufacturers want you to continue buying their brand in the future so they make sure their batteries and accessories are proprietary and won't work with any other system. Let's take a look and see which cordless power tool brand is the best.
[amazon table="601″]
Brand Consolidation
The tool industry saw many acquisitions and consolidations in 2018 and years prior. Stanley is now a Fortune 500 company that goes by Stanley Black & Decker. Stanley acquired the Craftsman brand from Sears in 2017 which was a big change for a brand that began in 1927. Take a walk through Lowe's and you'll see Craftsman on the shelves there, not in Sears!
Stanley Black & Decker:
DeWALT
Porter-Cable
Black & Decker
Craftsman
Technotronic Industries (TTI):
Milwaukee
Ryobi
Ridgid (manufactured under license)
Chervon Trading Co.:
Skilsaw
Skil
Kobalt (manufactured under license)
DeWALT is My Pick for the Best Cordless Power Tool Brand
First up is DeWALT which I highly recommend as one of the best brands. When you hold a DeWALT driver in your hand you'll notice how easily it fits your grip. It's almost as if they took a model of your hand and made the handle to fit. Slowly squeezing the trigger on their impact driver delivers just enough power but increases the more you pull the trigger. If the driver encounters enough resistance, it will begin to hammer the rotational force to further drive the fastener where a drill wouldn't typically be able to do the same.
The three LED lights behind the face of the chuck are such a great feature that you can't go back to not having LED's on any power tool. It's very useful in every application. Three LED's makes all the difference because it illuminates your fastener from all directions for a good 20 seconds before turning off
DeWALT Features
DeWALT moved to a 20V slide-in Lithium Ion battery rather than the post type for ease of use. It inserts on to the driver or drill easily as well as the charger. Both the drill and driver are lightweight and are smaller so they can fit in to tight spaces more easily.
Slide on 20V battery platform
Over 180 tools in the 20V line
Excellent ergonomics – feels like the tool was made for your hands
XR Series utilizes high capacity 5.0Ah batteries
DeWALT Pros
Lightweight
Enough power to fasten most applications
Long lasting batteries
DeWALT Cons
The battery will continue to run and then just stop without warning
No power gauge on the battery
DeWALT FAQ
Q: What does Ah mean?
A: Ah is a measure of amp hours or how many amps a battery can deliver at a specific voltage over 1 hour. For example, the DeWALT 5Ah battery will deliver 5 amps of power at 20 volts over one hour of time.
Q: Where does DeWALT manufacture their tools?
A: They are assembled in the US but with materials purchased from other countries.
DeWALT 2018 Catalog
Find the DeWALT 2018 Catalog here.
DeWALT Warranty Information
3 year limited warranty, 1 year free service, 90 day money back guarantee. Find their latest warranty information here.
DeWALT Manuals
Find the DeWALT manuals by entering your product's part #.
DeWALT Company Profile
Raymond E. DeWALT started the company in 1924 when he invented the radial arm saw. He grew it quickly and sold it in 1949. Not long thereafter, Black & Decker purchased the company in 1960. DeWALT is now headquartered in Jackson, Tennessee.
Today, DeWALT shares in the Flags of Valor and Wounded Warrior Project for veterans. They remain committed to hiring veterans, donating tools, and contributing to charities.

Contact info:
1-800-4-DEWALT
[amazon box="B00IJ0ALYS"]
Next up is Ryobi
Ryobi focuses on consumer tools manufactured at affordable prices. Their Japanese company history has given them a leg up in technology. On October 31st 2017, Ryobi sold 80% of it's power tools business shares to the KYOCERA Industrial Tools Corporation. However, Ryobi tools in the United States, Canada, Europe, Australia, and New Zealand will continue to be manufactured by TTI.
Ryobi Features
18V Lithium-Ion post style battery system called ONE+ has been the same since 1996
125 tools on the 18V ONE+ system
Brushless technology
Claim they "Never have or never well change battery technology"
20 Year old Ryobi cordless tools can utilize newer Lithium-Ion technology
Ryobi Pros
Older tools can use newer batteries because they're still using the same battery form factor
Once you're in to their battery system, there's a wide variety of tools available
Ryobi Cons
Only 18V batteries when other manufacturers are 20V and higher
Lithium-Ion batteries will not work on their older Ni-Cad chargers
Ryobi FAQ
Q: Where are Ryobi tools serviced?
A: They can be serviced at your nearest Home Depot
Q: Do I need to keep my receipt?
A: Yes, you'll need it for the warranty
Q: What is the warranty?
A: Tools purchased after January 1, 2011 have a 3 year limited warranty
Ryobi Catalog
Find Ryobi's online catalog here.
Ryobi Warranty
Ryobi offers a 3 year limited warranty with proof of purchase. Find additional Ryobi warranty information here.
Ryobi Manuals
Ryobi Company Profile
The Ryobi consumer tools brand is owned by Techtronic Industries which is based in Hong Kong. TTI manufactures tools for Craftsman, Electrolux, Ryobi, Homelite, Hoover, Dirt Devil, and Milwaukee.
Ryobi Seisakusho was started in 1943 in Japan making printing presses. They began making power tools in the 60's and has one automobile parts manufacturing plant in the US.
Contact Info:
1.800.525.2579
One World Technologies, Inc.
P.O. Box 1207
Anderson, SC 29625
[amazon box="B01M2CGHKM"]
Milwaukee Tools
Milwaukee has an interesting start if you do some research about their company. Henry Ford needed a better way to drill holes in manufacturing of his early model vehicles, so he contacted A.H. Peterson to do some innovation. A.H. Came up with the "Hole-Shooter." As they say, the rest is history!
Today, Milwaukee Tools has been bought and sold by various companies but is still innovating in their FUEL line of cordless power tools. GPS tracking, brushless motors, and Lithium-Ion are features in some of their tools.
Milwaukee Features
Milwaukee's tools run on the M18 and M12 FUEL battery platform called Red Lithium. M12 is for smaller, more portable tools. M18 is the larger version.
Advanced brushless motor technology delivers more power in a smaller package
Redlink intelligence allows communication between the tool and the battery for better monitoring and performance
One-Key allows GPS tracking of tools for tradesmen (more info here)
Milwaukee Pros
GPS tracking via an app is great for those that work on a job site
Has a fuel gauge on the Red Lithium XC5.0 battery pack to display remaining charge
Milwaukee Cons
No place to store the bits on the drill itself
Milwaukee FAQ
Q: Are Milwaukee tools brushless?
A: Yes, they are brushless.

Q: How many volts in the battery?
A: 18 volts

Q: Are bits included with any of Milwaukee's kits?
A: No, bits are not included
Milwaukee 2018 Catalog
Find the 2018 Milwaukee Catalog here.
Milwaukee Warranty
Milwaukee offers a 5 year limited warranty on most cordless power tools. Other tools have a 2 or 3 year warranty. Find more information on Milwaukee's warranty here.
Milwaukee Manuals
Find Milwaukee's manuals here.
Milwaukee Company Profile
Henry Ford approached A.H. Peterson towards the end of World War I with a proposition. Henry needed a drill. Not just any drill, but a small and lightweight drill that his assembly line workers could use with one hand. A.H. went to work to improve upon his previous models that were heavy and required two hands to use. A.H. finally came up with an innovation called the Hole-Shooter. It changed the game and began the story for what the brand Milwaukee is today.
Various companies and investment firms have owned the Milwaukee brand over the years. Technotronic Industries has owned the Milwaukee brand as a subsidiary since 2005 and still continues to innovate.
[amazon box="B001F7BIMG"]