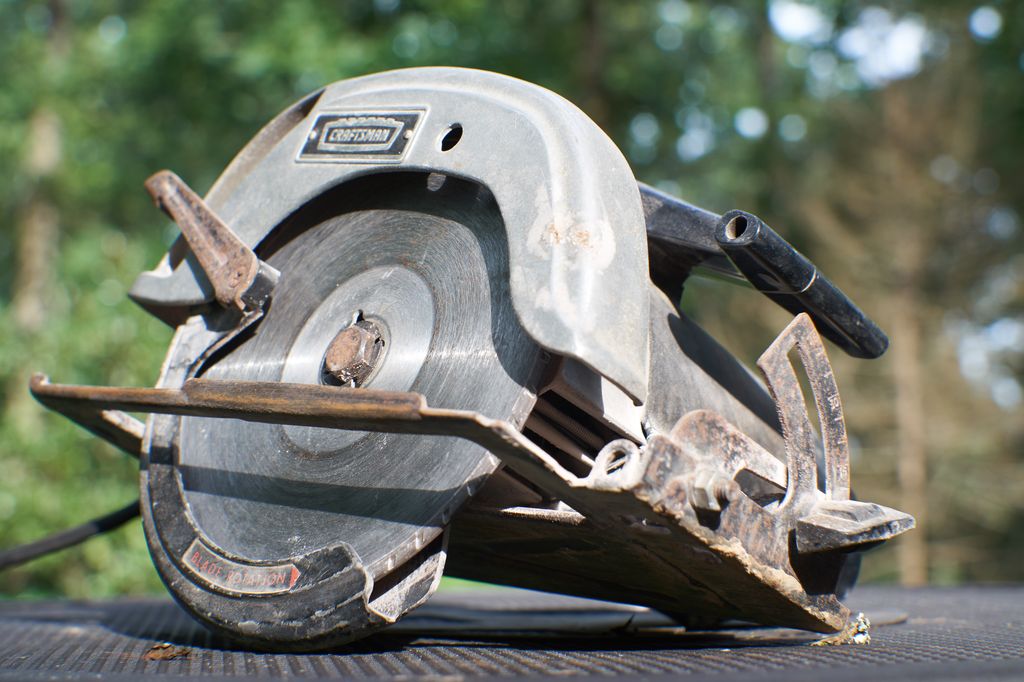 What is a Circular Saw?
A circular saw is used to cut lumber, boards, plywood, and wood to length for your projects. Blade type and size vary, but the most common size is 7-1/4″ diameter. Beginners will usually be cutting wood materials, but you can also purchase masonry blades for cutting concrete and stone.
The Best Circular Saw for Beginners is the DeWALT DCS391B
Sale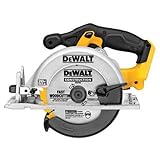 DEWALT 6-1/2-Inch 20V MAX Circular Saw, Tool Only (DCS391B)
Powerful 460 MWO, 5,150 RPM motor delivers power and speed to make the most demanding cuts with ease
High strength and lightweight magnesium shoe provides jobsite durability for long-term cut accuracy
0-50°(degree) bevel capacity allows for aggressive bevel cuts for a multitude of applications
Optimized rubber overmolded comfort grip delivers optimal balance and control; Power Tool Type: Cordless
6.5-Inch carbide-tipped blade for cutting 2 times material at 90° and 45° and more cuts per charge
Last update on 2019-10-21 / Affiliate links / Images from Amazon Product Advertising API
Features
6-1/2″ carbide tooth blade
Cordless: 20V Battery
5,150 RPM Motor
Molded rubber comfort grip
Magnesium shoe for higher strength but lighter weight
0-50° beveling
Pros:
Great value for the price when you compare the features to corded models.
It's cordless, so you can use it anywhere without having to run a power cord.
Cons:
Batteries will eventually die, so you'll need to keep more than one around if you want to keep working.
Blade is 6.5″ which is smaller than most circular saws (7-1/4″). However, it's a great starting point for most beginners who aren't doing heavy duty framing work.
FAQ
Q: How do you adjust the blade height?
A: Loosen the depth adjustment knob, adjust the height, and re-tighten.
Q: Can you cut stone with this saw?
A: Yes, if you purchase a masonry blade.
Q: Will the 1.5Ah batteries work with this saw?
A: Yes they will work but you may want to upgrade soon to the 3.0Ah battery.
Q: Does it come with a battery and charger?
A: No, this model is just the saw. No battery or charger included.
Q: How much does it weigh?
A: The tool weights 7 pounds.
Q: What is the warranty?
A: 3 year limited warranty, 1 year of free service, and 90 day money back guarantee
Types of Circular Saws
1. Direct Drive Circular Saw
The motor's rotor is attached directly to the blade through the shaft in a direct drive. A beginner can learn to use a direct drive saw and be cutting two by fours in no time
2. Worm Drive Circular Saw
The motor in a worm drive saw turns a series of two gears from the rear of the saw. Framers building a house often prefer a worm drive saw because it delivers extra power for better cuts in certain situations. However, these saws cost more, are heavier, and are not the right tool for a beginner.
How to Cut a Straight Line with a Circular Saw
1. Adjust the Cut Depth
The most efficient cut will minimize twisting and pinching of the blade as it cuts through your material. Adjust the cut depth so that only one half of a blade tooth protrudes from the other side of your material. Find the depth adjustment knob and and move the shoe of the saw to the right depth.
2. Cut Through the Back Side
One good tip for a beginner to know is that the face of the board pointing towards you will have splintering. The blade of the circular saw spins from the bottom upward and cuts as it rotates up through the wood. That means that if you want to minimize splintering on the face you'll be working with, make sure the good side points down when you cut.
3. Measure and Cut
Place your material on a stable surface and make sure you've got clearance underneath for your cut. Make your measurement and use a speed square if you have one to make a straight line. Pull the trigger and then push the saw through the wood to begin the cut. Stay slow and don't push too hard so you don't bind the saw.
How to Make a Pocket or Plunge Cut
What if you need to cut a square in the middle of a board for a cutout? Look at the front edge of the shoe of the saw and you'll notice it has a flat edge. First adjust the saw to the correct depth so that one half a tooth will cut through. Put the toe of the shoe on the board and slowly lower it as you cut. Lower it all the way, then move forward to length.
DeWALT Company Profile
Raymond DeWalt started the DeWalt Products company in 1924 in Leola, Pennsylvania making a universal woodworking machine called the "Wonder-Worker." The company has grown, expanded, and become worldwide since its inception close to one hundred years ago. Professionals, DIY'ers, and tradesmen all over the world recognize the company for their proud stance behind their products. They make heavy, tough, and long lasting power tools for professionals in all trades.
Today, DeWalt is a subsidiary of Stanley Black & Decker currently headquartered in Towson, Maryland. If you know the name Porter-Cable, it was also purchased by Black & Dekcer and combined with DeWalt in 2004.
Sale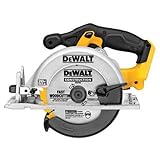 DEWALT 6-1/2-Inch 20V MAX Circular Saw, Tool Only (DCS391B)
Powerful 460 MWO, 5,150 RPM motor delivers power and speed to make the most demanding cuts with ease
High strength and lightweight magnesium shoe provides jobsite durability for long-term cut accuracy
0-50°(degree) bevel capacity allows for aggressive bevel cuts for a multitude of applications
Optimized rubber overmolded comfort grip delivers optimal balance and control; Power Tool Type: Cordless
6.5-Inch carbide-tipped blade for cutting 2 times material at 90° and 45° and more cuts per charge
Last update on 2019-10-21 / Affiliate links / Images from Amazon Product Advertising API